Best 30 Gallon Air Compressor
An air compressor is one of the most useful multifunctional gadgets you can own. It can make your life extremely easy. But if you invest in the wrong air compressor, it can also make your life a living hell. Spending money on an air compressor only for it to fail, can be a huge letdown.
And since 30-gallon air compressors are the most popular, they tend to be confusing because of the market influx. Picking the best option can feel tedious and overwhelming. Luckily, we have eliminated that challenge by compiling a list of the best 30-gallon air compressors in the market currently.
Top 5 30 Gallon Air Compressors
Industrial Air ILA1883054 30-Gallon Belt Driven Air Compressor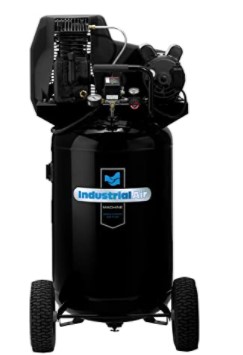 This air compressor uses a belt-driven pump to deliver pressure up to 155 PSI for optimum tool performance. The air compressor has a heavy-duty induction motor for maximum performance and efficiency. The engine has dual voltage capacities. It is wired for a standard 120-volt outlet, and it can also be converted for a 240-volt application.
The air compressor has a 30-gallon vertical portable tank with pre-attached pneumatic tires for maximum portability. It also comes with synthetic oil for optimum performance and long life. The air compressor is equipped with a quick-set regulator, tank and working pressure gauges, and an on/off switch.
Features
Material: Cast iron
Twin-cylinder
Oil-lubricated pump
Heavy-duty induction motor
155 PSI max pressure
Dual voltage motor
Tank and working pressure gauges
On/off switch
Front handle
Motor horsepower: 1. 9 HP motor
Pros
Optimum tool performance
Pre-attached pneumatic tires
Quick-set regulator
Comes with synthetic oil
Two years limited warranty
Cons
The recovery time is too long
DEWALT DXCMLA1983054 30-Gallon Portable Air Compressor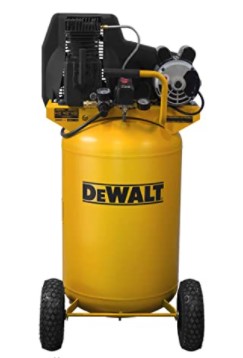 The Dewalt 30 gallon air compressor is designed for heavy-duty applications. It features a dual voltage motor wired for a standard 120-volt outlet and can be converted for 240-volt applications. Its maximum pressure is 155 PSI max pressure making it perfect for home garage use.
The air compressor uses a 30 gallon ASME vertical portable tank with pre-attached pneumatic tires for maximum portability. It also comes with synthetic oil for optimum performance and long life. The compressor is made from cast iron, and it has a twin-cylinder pump featuring an aluminum head and valve plate that helps to ensure faster heat dissipation.
Its high flow regulator supplies 20% more torque for projects like removing stubborn nuts and bolts.
Features
Maximum pressure: 155 PSI
ASME vertical portable tank
Dual voltage motor
Comes with synthetic oil
V-twin cylinder
Oil-lubricated pump
High flow regulator
Aluminum head and valve plate
On-board controls
High flow regulator
Tank and tool pressure gauges
Quick connect air outlet
On/off switch
Pros
Pre-attached pneumatic tires for maximum portability
Heavy-duty dual-voltage induction motor
2-year pump warranty
One year all other parts warranty
Easy to use
Cons
Husky 30 Gal. 175 PSI High-Performance Quiet Portable Electric Air Compressor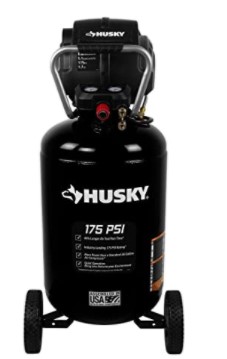 If you are looking for a reliable 30-gallon air compressor, this air compressor is as reliable as it gets. It features a high-performance pump and motor that delivers 175 max psi along with 5.1 SCFM at 90 psi. The higher psi is ideal for more extended air tool run times and increased project efficiency. It also features an oil-free pump that allows for spray painting without the need for oil separators in the air system.
The air compressor can be sued for all inflation, finish nailing/stapling, hobby painting, bolting/fastening and medium-duty framing/roofing, HVLP painting, cutting/drilling, and surface prep. It has an ASME certified tank that meets all safety requirements.
Its vertical design has a smaller footprint and takes up less space in your shop or garage. It is also equipped with a high flow regulator to ensure max airflow to your peak performance tools.
Features
Item weight: 150 pounds
175 max psi
Dual quick connects
High flow regulator
ASME certified
Oil-free pump
Pros
High-performance pump and motor
Longer air tool run times
Durable
Cons
Its motor noise is deafening
Ingersoll-Rand SS3F2-GM Garage Mate 1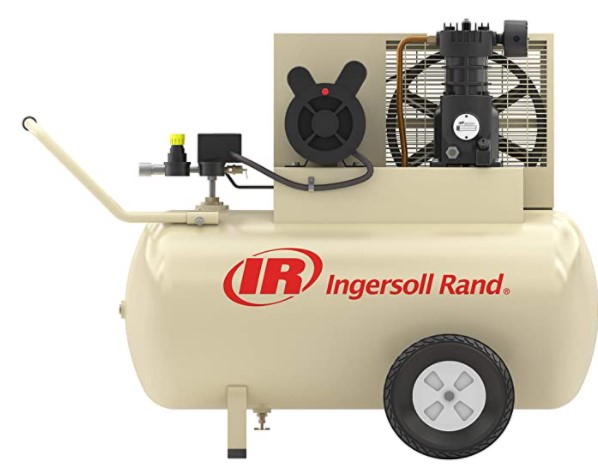 This quiet 30-gallon air compressor features a heavy-duty, ergonomic handle and semi-pneumatic tires for easy handling. It is designed to be user-friendly, and it produces 80 dBA of compressor noise. It has an easily accessible side drain valve and an automatic start/stop pressure switch control.
The air compressor uses Select synthetic lubricant for increased efficiency. It has an estimated service life of 2,000 hours between change-outs.
The air compressor also features a durable cast iron cylinder and frame, a protective enclosed belt guard, and manual overload motor protection.
Features
Heavy-duty, ergonomic handle
Semi-pneumatic tires
Side drain valve
Automatic start/stop pressure switch control
Lifespan: 2,000 hours
Protective enclosed belt guard
Pros
Portable design
Low noise level
Uses synthetic lubricant for increased efficiency
Durable cast iron cylinder and frame
Manual overload motor protection
Cons
The valve is prone to air leaks after constant use
Campbell Hausfeld VT6271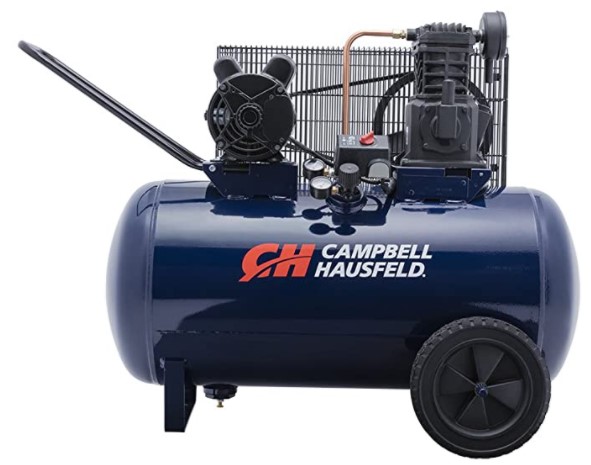 This highly durable air compressor has an ASME certified vertical tank for easier storage and transportation. It uses a 3.7 horsepower motor to power a cast-iron pump to deliver up to 135 psi of pressure for extended periods. It has an anticipated service life of five thousand hours, and its lowest pressure is 90 psi.
It can be used for paint spraying, inflation, sanding, grinding, stapling, nailing, bolting, tightening, and much more. The air compressor also features large semi-pneumatic wheels that make it easy to move it from one job to the next.
Features
Horsepower: 3.7HP
Service life: 5,000 hours
Maximum pressure: 135 PSI
Horizontal tank
Large semi-pneumatic wheels
Material: Cast-iron
Two-cylinder pump
Oil-lubricated
Pros
Highly durable
ASME certified
User-friendly design
Cons
The plastic parts get damaged easily
Conclusion
The best 30-gallon air compressors should be able to reach a higher psi while being energy efficient. It should also be easy to move, operate, and maintain. Go for an air compressor that can be used for multiple applications. Lastly, the best 30-gallon air compressor should have a longer lifespan than a mini air compressor.