How Do I Decorate My Garage Door for Christmas?
The Christmas holidays are a perfect time to share your love of Christmas with your neighbors and friends. One of the ways to share your Christmas spirit is decorating your house both inside and outside. Often when decorating your home for Christmas, you decorate the front door and not the garage door.
Garage Door Decoration Ideas
Take the time to decorate it, as it offers an ample space where you can be creative and come up with excellent designs to use. You can also purchase garage door decoration online or from your local store. In addition, you can make your decorations at home quickly and use them on your garage door.
To decorate your garage door for Christmas:
Start by disengaging the automatic garage door opener.
Ensure that you thoroughly clean the door to remove dust and other particles.
Allow the door to dry, and then start decorating.
You can use any of the following garage door decoration ideas.
Red merry Christmas garage door cover
If you are looking for something beautiful but easy to put up, consider buying a Christmas door hanging There are excellent options online that you can purchase and install quickly. Covers are a perfect choice if you have a roll-up door as they work with your design. You can add to this garage door Christmas decoration by putting stickers around the door to give the area an enchanting look.
An excellent example of this garage door Christmas decoration is the Ornaments in the Snow Garage Door Décor available online. The banner fits a 7×16 door size and will not affect its functionality. It is also easy to remove after the holidays and will not damage your door.
Santa's Workshop Garage Door Cover
If you have children, you may want something more enchanting for your garage door. Santa's workshop door is an excellent Christmas door hanging and will keep your kids engaged for the entire holiday season. It will also draw attention to your home and ensure that you stand out in your neighborhood.
You can purchase Santa's Workshop Garage Door Banner online. It fits a 17×6 garage door and features elves working and Santa checking his list. This Christmas door hanging is beautifully made and will make your garage door seem like it leads into Santa's workshop.
Paint a Mural
If you want to create an original garage door decoration, you can paint a mural on your garage door. You can paint the garage door yourself or hire a local artist to do it for you. If you have a child who is a sound artist, you can allow them to do the garage door mural or help you with your painting. Doing this project with your children is a great way to spend time and bond with them. In addition, it is an excellent way to make memories.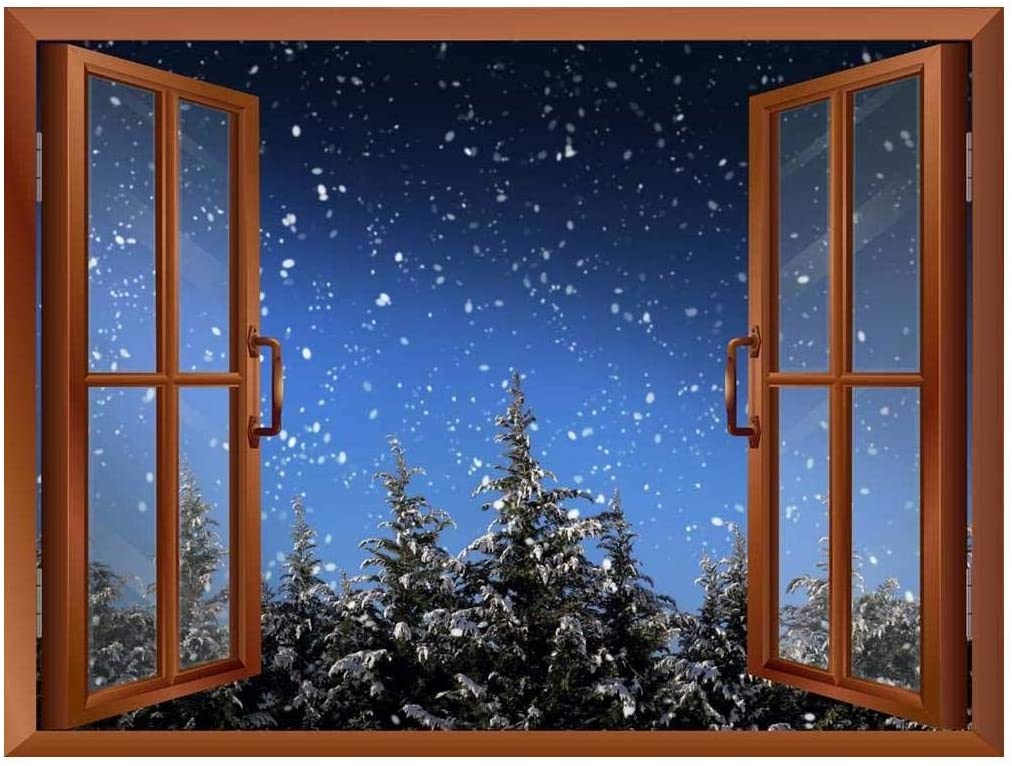 The best way to paint a mural for your garage door is to paint it on a sheet and hang it up. However, you can choose a simple winter scene that will serve you for a long time and paint directly onto the door. If you do not want to do that, you can purchase pre-painted murals. These come with installation instructions and will not damage or affect the functionality of your garage door.
Use Vinyl Stickers
These are better than window stickers, and you can put them directly onto your garage door. They are durable and are not easily damaged by the elements. You can use the vinyl garage door stickers to spell out holiday greetings or make a collage of your favorite Christmas characters. That is an excellent project to do with your family. They are easy to install, and you will not need any tools to put them up. Remember to take your time spelling season's greetings to ensure that you do not have typos on your Christmas decorations.
Use Holiday Magnets
Holiday magnets are an excellent choice for your garage door because they allow you to try various designs before you can settle on one. They are also reusable, unlike vinyl decals. However, it is essential to ensure that magnets stick to your door before buying the Christmas decorations.
You can purchase Christmas magnets for your garage door online or at your local store. First, make sure that you get large ones meant for use on your garage door. Then, you can decorate your garage door as a family and create collages that everyone will love. Remember, do not place magnets on the seams of your door as they will break when you open and close the door.
Wreaths
A Christmas door wreath is an excellent outdoor decoration for your doors during Christmas. They are simple to make if you like DIY Christmas door decor and can last throughout the holiday season. You can use snowman accents and lights to enhance the appearance of your Christmas wreath. Follow these easy steps to make your wreath.
Prepare your Christmas door wreath materials by clipping the plants and choosing the Christmas decorations you will attach to them.
Attach the materials to your wreath wire using thread. Make sure that the materials do not overlap each other or leave spaces in between them.
Tie off the Christmas door wreath and hang it on your door.
When making a wreath, you can choose to use a wide variety of decorations to make it stand out. You can also buy Christmas wreaths for your garage door online. Again, you will find a wide variety, and you can buy artificial ones that you can reuse for many years.
Christmas Lights
Another way to decorate your front door is using Christmas lights. You can put them around your doorway or use them to create a creative design on it. Ensure that you are careful when using Christmas lights, so they are not damaged when closing or opening the door. You can also place them on your door frame to highlight the decorations, for instance, a mural on your door. Make sure that you purchase high-quality Christmas lights that work outdoors.   
Wrap your Door
Wrapping your door is an excellent way to decorate it for the festive season. Follow these easy steps if you have seen this decoration in pictures online or in your neighborhood and would like to do it too.
You can use ribbon or paper. Choose materials that can handle wet weather as it tends to rain or snow during Christmas in many places.
There is a tiny gap between the sections of your door. Cut the paper or ribbon that you are using and wrap it around these gaps vertically. You can utilize a stapler to secure the fabric or ribbon on the inside.
After you finish and the design looks like one long ribbon, attach the bow design where the two lines meet.
Use a Garland
Hanging a garland is another excellent way to decorate your garage door. You can place it on the left and write door frames. You can also incorporate it into designs made with stickers or magnets. Be creative in your use of a garland to decorate your garage door. Make sure that you buy a long one and use part of it for your front door so that they match. You can choose one from a wide selection of Christmas garlands available online for one that works for your house. Make sure that you pick one that has lights to ensure that your garage door stands out.
Frame your Garage Door
If you have a beautiful door that you do not want to obscure with decorations, you can use them on the door frame. You can use garlands, stickers, or lights to draw attention to it. Use them all over your house to create a gingerbread house theme. Pick your colors carefully, ensuring that you coordinate them on other doors and windows on your property.
Build a Snowman
A snowman is an essential part of Christmas, and you can create one on your door. The design is best used on white doors, but it is still effective on garage doors of other colors. You can follow these steps to do it yourself.
Buy pieces of black and orange vinyl at your local hardware store. Make sure that they have an adhesive back.
Cut out six circles of the black vinyl. You will use 4 to make a smile and two to make the eyes.
Cut a large triangle to make the carrot nose for your snowman.
Your children will love the smiling snowman.
Building a snowman on your garage door can be an excellent family activity. You can pair this garage door Christmas decoration with a Christmas greeting or the frame mentioned above. This decoration will make you and your kids smile every time you approach the garage door. You can also purchase snowman stickers if you do not want to DIY Christmas door decor.
Use a Holiday Decorations Projector.
If you are busy, you can decorate without spending hours hanging Christmas lights. That is also a great option if you are renting the property or do not want to make permanent changes outside your house. Unfortunately, the decorations will not be visible during the day. You can use this method to project a wide variety of decorations on your garage door. The projector comes loaded with various designs that you can use on your garage door. You will need to try different placements to find the perfect one for your door. Make sure that you choose a waterproof model and one that is long-lasting. Some projectors allow you to add your pictures or designs. You can purchase a Christmas projector online.
Use Fake Snow
Adding fake snow to the top of your garage door will give it a stunning appearance. That is an excellent choice if you live in a place that does not snow. You can combine the fake snow with other decorations to create a beautiful Christmas design.
Decorating your garage door is a great way to enhance your Christmas decorations. You can use any of the above garage door decoration ideas during the holiday season. Remember not to hang or put things in the door's tracks or mechanical components. Clean the door before decorating, and do not use adhesives that will be difficult to remove after the holiday season. Finally, consider the functionality of your door before picking a decoration.