How Do You Stop LED Lights from Interfering with a Garage Door Opener
LED (light-emitting diode) lights are popular due to their brightness, energy efficiency, and excellent longevity. They make great lights for flashlights and spotlights, and most homeowners install them around the garage. Unfortunately, these lights could be why your garage door opener works intermittently or stops working completely.
Several reasons can cause your garage door opener to stop working. After troubleshooting your garage door opener, and nothing seems to be the issue, you should check the LED lights in your garage. Fixing the interference on a garage door opener can be complex.
First, you have to block the Radio Frequency Interference(RFI) by using shielding wires or adding a ferrite bead. You can also change your garage door opener to a new model.
Read more to understand how LED lights interfere with garage door openers and how to stop the problem. We have also recommended our favorite LED lights that won't interfere with garage door openers.
Do LED shop lights interfere with garage door openers?
LED lights inside and outside your garage can interfere with your garage door opener. While LED light bulbs are energy-efficient and can save you money on utility bills, they produce radio signals that can interfere with your garage door remote.
But first, it's important to understand how LED lights affect garage door openers. LED lights flash 15 times per second but appear as a continuous stream of light. This is due to the control circuits inside the bulb operating on a frequency between 30 and 300 MHz.
On the other hand, garage door opener remotes have a radio transmitter, and the opener motor has a receiver. The remote sends a radio signal to the garage door opener across a specific frequency when you operate the remote—typical garage door openers operate on frequencies between 288 and 360 MHz.
Therefore, the frequencies of both devices intersect and interfere with each other. In addition, the radio waves from the LED build will confuse the garage door opener signal and mask it, sometimes preventing the door from working when you press the remote control button.
But not all LED bulbs cause LED interference on garage door openers. Some LED bulb brands have shielding that prevents the radio waves from spreading, but many don't. Low-quality LED brands forego quality issues such as this shielding to meet the demand for low-priced products.
How do you stop interference on a garage door opener?
There are several reason why your opener remote won't work. If the garage door opener is fine and the remote has new batteries, there is probably a signal interference. Before solving the issue, the most important step is to identify the source of the problem in your garage.
First, confirm the issue is radio frequency interference. Find the 'Learn' button at the back of the garage door opener motor and locate the LED indicator next to it. Press the learn button without pushing the remote control button. If the opener bulb flickers, the garage door opener detects interference.
Now identify the problem-causing device. Get a low-tech portable AM radio as it is cheap and easily available. Ensure it has new batteries and volume on high.
Tune the AM radio to a station on the lower end of the AM dial. Tune it until you hear nothing, including static.
Then hover the AM radio over all the devices inside and outside the garage with LED lights.
If you hear a buzzing sound, then that's your culprit. If you find one LED light, it's best to continue looking for others, as an LED light is not likely to cause enough interference on a garage door opener. You should also test LED lights that do not share the same circuit with the door opener, such as landscape lights outside the garage.
After identifying the LED lights in your garage as the source of the radio interference, here are the possible solution to fix the issue.
Reset the garage door opener
Garage door openers use new codes every time you open the door. Resetting this code manually can fix the interference issue if it's a temporary glitch. The reset procedure varies between brands, so you will need to confirm with your user manual, but here are the standard instructions for most openers.
Find the 'Learn' button on the overhead motor.
Press and hold it for about five to six seconds or until the opener light turns on and blinks. Then, continue pressing the learn button until the light goes off. This step alone will reset the code for some opener brands.
Then re-link the remote control to the garage door opener. Press and release the learn button, and the small red light will turn on to let you know the garage door opener is ready to receive the radio signal from the remote.
Within 30 seconds, press the remote button to send out the radio signal. The garage door opener bulb will blink to indicate it has linked to the remote.
Switch to a quality LED light brand.
When buying LED lights for your house, look for the Federal Communications Commission logo, which shows FCC compliance and includes minimum radio interference to ensure your garage door opener keeps working. Typically, these brands are pricier than LED lights with more radio interference.
Replace the LED bulb with a less energy-efficient option
Manufacturers of some garage door opener brands like Genie and Chamberlain make their own LED light bulb with shatter and vibration resistance and doesn't cause radio interference.
Upgrade your garage door opener
Older opener systems usually have more issues with radio frequency transmissions. Newer garage door openers have multiple frequency settings that you can toggle if your LED lights or another device is causing interference with the garage door opener. There are a number of ways you can upgrade your garage door opener system, such as;
Purchase a dual-frequency garage door opener.
Chamberlain Group manufactures the most garage doors in the US such as Chamberlain and Liftmaster. They upgraded their radio frequency technology in 2007 to the new Security+ 2.0 system, which communicates multiple frequencies and uses a unique code every time you press the garage door remote button.
This technology selects the strongest frequency, thus eliminating interference with other technologies so your remote control will work every time.
Use a conversion kit
a dual-frequency remote conversion kit is a universal external receiver that upgrades any model garage door opener to use modern remote controls. This kit prevents radio frequency interference by providing dual-frequency to your older model openers.
Install smart garage door opener
Changing to a smart garage door opener will stop the radio frequency interference since it operates with WiFi instead.
Adding ferrite beads
Ferrite beads are passive electronic accessories that you place around a power or ground line to suppress high-frequency signals from a specific device. You can install these ferrite beads on your LED lights to reduce your garage door opener interference.
You clip the bead over the LED negative cable leading to the LED bulb, thus dampening the radio wave signal.
Install an RFI filter or shield
If the LED light causing interference is outside your garage, you should consider installing an RFI filter or shield. These devices reduce and control radio frequency interference from a source by preventing a source of RFI from emitting RFI into the power supply. This installation requires technical skills, so you may have to contract an electrical to do the installation.
What LED lights won't interfere with a garage door opener
Although LED lights seem harmful to garage door openers, high-frequency LED lights are acceptable for garage use. If you still want to continue using LED lights around your garage, we have a few LED light bulbs compatible with most garage door openers. But, first, there are a few important specs you will need to consider when shopping for LED garage lights.
Wattage: This is the measure of how efficient the light is. The higher the number of watts, the more energy the light uses.
Lumens: This measures how bright the bulb is. The higher the figure, the brighter the light is.
Here are our top four picks of the best low interference LED lights for your garage.
1. Hykolity LED Shop Light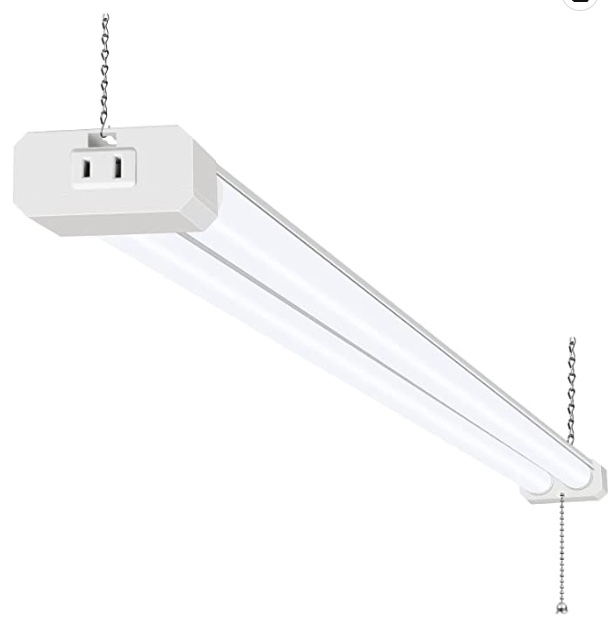 The Hykolity LED Shop Light is a 4-foot 40-watt light bulb that you can mount flush or hand on your ceiling or from under a shelf. It has an easy power switch and is noticeably brighter than other single units. In addition, its installation is easy since it doesn't require any hardwiring.
It also comes with an ETL-listed mark. This means it meets the North American safety standards and UL standards from a global safety certification company.
Features
Lumens: 4200
Color temperature: 5000 kelvin
Wattage: 42w
Mount: hanging or surface
Linkable up to six lights
Pull chain switch
Pros
Easy installation( plug into an electric outlet)
You can daisy-chain it to other models
Hang and ceiling mount
ETL-listed
Cons
The material feels lightweight, making it less durable.
It has an 8-inch cord pull which might be too high for some people.
2. Barrina LED T5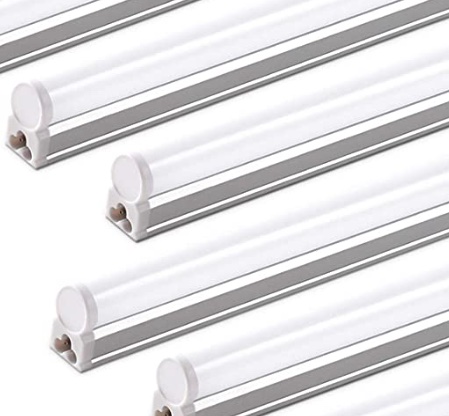 If you want a great LED light source on a budget without compromising quality, the Barrina LED T5 is an excellent option for your garage. This LED shop light comes in a pack of six 2-foot tubes. These tubes are linkable, with 2200 lumens for each fixture. Its installation is easy and has low power consumption, saving up about 65% on electricity costs.
Features
Lumens: 2200 each
Color temperature: 6500 Kelvin for each light
Wattage: 16W
Number of lights: 6
Linkable
Mount: ceiling or under shelf
Working base: plug and play
Pros
It comes in a multipack for a reasonable price
Plugin or hardwire installation
It is linkable
Cons
It has short linking cords.
3. Craftersmark LED Garage Light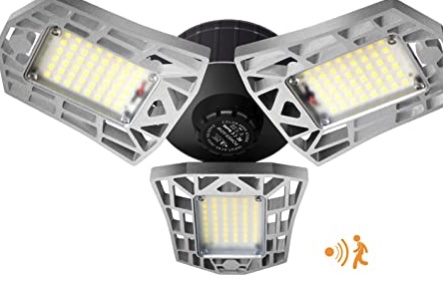 The Craftersmark LED Garage Light is one of the best-LED garage lights which are deformable and come with motion sensors. It has three adjustable panels for direct illumination, making it excellent for anywhere requiring ample light. It is easy to install, but its motion sensor is not adjustable.
Features
Lumens: 8000
Color temperature: 6500 Kelvin
Wattage: 80W
Sensing meter: 8-10 meters
Sensing time: 10-20 seconds
Number of lights: 3 panels
Mount: wall or ceiling
Pros
It is deformable to 90 degrees, making its light projection customizable.
It has a 360-degree microwave motion sensor
It shuts off automatically
Easy to install
Cons
The motion sensor is not adjustable
It can cause shadows and dark corners
4. Sunco Utility Shop Garage Light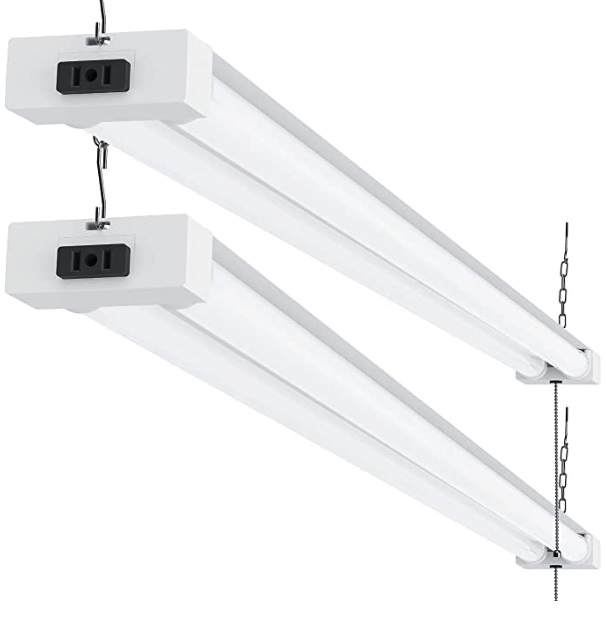 The Sunco Utility Shop Garage light is a great option for industrial-grade LED garage lighting. You can mount them flush on the ceiling surface or hang them with the included hardware and chain. Each light is 4-foot long with a 5000K color temperature. They are linkable to up to four lights, and you can operate them from a single wall switch.
Features
Lumens: 4000
Color temperature: 5000 Kelvin
Wattage: 260
Beam angle: 110°
Number of lights: 2
Non-dimmable
Mount: chain or flush
Pros
The lights come wired in series; therefore, they can work individually
Easy installation with standard plugs
It comes with long wires for easy daisy-chaining
Flexible installation options
Largest on our list
Cons
It has no mounting holes for flush-mount installation
Least bright on our list
Why does Liftmaster say not to use LED bulbs?
Using other LED bulbs other than recommended may damage your Liftmaster garage door openers. Some of the reasons Liftmaster advises against using LED bulbs are:
The light bulb should not be in contact with the light lens cover. Therefore, it has to be the correct size.
The bulb should also not exceed the wattage of your garage door opener.
Low-quality LED light bulbs can cause radio frequency interference with the garage door remote controls.
Thankfully, Liftmaster has tested LED bulbs in the market to create a compatibility list for their garage door openers, which you can find here. In addition, you can also get the Liftmaster Universal Garage Door Opener LED Light Bulb, designed to minimize interference with any modern garage door opener. It is also weather tested to -30°F and shatter-resistant.
Conclusion
LED lights are tech-savvy, efficient in power consumption and performance, and have an incredibly long lifespan compared to other bulb types. But they may also be why your garage door opener won't respond to the remote.
However, instead of replacing your LED lights with less efficient options, you can add ferrite beads to block interference or upgrade your garage door opener system to a newer model.