What Is a Pin Nailer Used For
Most carpenters incorporate finish carpentry into their projects like window and door casing, wainscoting, crown molding, baseboards, and trim, among others. These projects become more manageable when a pin nailer is used.
What is a pin nailer?
Pin nailers are the smallest in size in the finish nail gun category. They are also the most delicate because they shoot tiny headless nails.
There are four types of finish nailer guns classified in terms of the size of nail they shoot. The higher the number, the smaller the nail and the hole.
15-gauge finish nailer
15-gauge nailers shoot thick nails in the range of 1¼"-2½" long. Their head gives them more holding power.
They are helpful for both interior and exterior casings that are large. They are used when installing pre-hung doors, nailing into studs, installing baseboards, stair treads and crown moulding.
They are available in both cordless and pneumatic options using air compressors.
Their prices vary depending on the brand.
16-gauge
16-gauge nailers shoot nails that have a small head and are thinner than the 15 gauge.
They shoot nails that are between ¾" to 2½" long. Their small head gives them good holding power and makes them useful for general use.
They are used for various projects like installing baseboards and crown, stair treads and interior trim.
They are also a great option when groove flooring close to a wall or inside a closet.
16-gauge nailers would be the most versatile and the best choice if you choose only one size of pin nailers. They are available in both pneumatic and cordless options.
Their prices also depend on the brand.
18- gauge
18-gauge brad nailers shoot thinner nails that are between ⅜" and 2" long, depending on the pinner's model. They have a small head, and therefore leave a small hole on your pieces. This makes them a great option as they do not split thin wood.
They are the go-to option for projects like attaching door jambs and window casings as they do not blow out your connections.
They are also ideal for a variety of woodwork projects. They are available in both pneumatic and cordless options and have their prices varying from brand to brand.
23-gauge
23-gauge are the most petite nails and are headless.
They can be used when you want to join delicate trim wood parts. Their headless nature makes them an excellent fit for such projects because they minimise splitting and do not leave visible entry points.
They are also compact and do not take up a lot of space in your toolbox or air-conditioned garage.
They also have helpful arrows painted on their strips, making it easier to use them.
23-gauge nails are also helpful for holding wooden parts that are impossible to clamp because of their awkward shapes. All you need to do is shoot the ends of the assembled model to uphold alignment before you secure them.
They are also ideal for installing thin stops and beads. They are available in both cordless and pneumatic options, and their price is dependent on the brand.
What projects can you use pin nailers projects
A pin nailer is used to hold wooden pieces in place while the glue dries.
It is also used to join large wood pieces with large surface areas together. They ensure your pieces do not slide out of each other when being clamped or glued.
Before shooting a nail into the woods, it is not necessary to press the tip of your pin nailer against the wood.
Pin nailers are best for the most sensitive trim pieces, thin veneers, and tiny furniture trim that large-gauge guns can damage.
Using a pin nailer
Essentially, all pin nailers are used to shoot thin metal fasteners.
However, not every model handles all lengths. Some lengths are specific to some models.
Their small diameter is what makes them fit for their purpose. Many pin nailers can penetrate hard hardwoods easily.
For maximum longevity, add glue to your pinned areas. The success of a pin nailer is in its ability to deliver the pins in the place where they are needed. Most of them use dual trigger arrangements to reduce instances of accidental misfiring.
One trigger is used to engage the tool, while the other is used for the actual firing.
However, this auto-lock system pertains to a particular pinner's performance.
The reason why you should invest in a pin nailer is because of the more refined finish you can achieve and the speed with which you can assemble your project.
Is a brad nailer the same as a pin nailer
A brad nailer shoots larger nails than a pin nailer. It shoots 18-gauge nails, which mostly have heads on them.
These nails provide more holding power than 23-gauge nails.
Pin nailers take up to one-inch nails, while brad nailers can take up to two-inch nails.
A brad nailer can be used for projects like nailing up a baseboard because it has more holding power.
It is also a very versatile gun for finish carpentry as it can be used for many applications, including those that would require a 15 or 16-gauge gun.
Cordless pin nailer: How do they work
Cordless pin nailers save you the hustle and disturbance a cord causes.
They are either powered by fuel or electricity. Although they shoot differently because of the difference in pressure before shooting, they both need rechargeable batteries.
The cordless electric nailer
The cordless electric nailer uses a lithium-ion battery. It is your battery charge that will dictate the amount of work you will do. It is advisable to have a spare battery to prevent your work from slowing down.
Although it is convenient and reliable, the cordless electric nailer is not helpful for heavy framing jobs.
Cordless fuel nailer
The cordless fuel-powered nailer has a fuel canister and a lithium-ion battery. When there's a spark from the battery because of fuel combustion, the spark plug is ignited, and the nail is fired.
Can you use a pin nailer for baseboards
Because of its low holding power, a pin nailer cannot be used to hold a baseboard for a long time. It can only be useful if used together with glue.
However, using glue may not be an option if your trim project will need to be removed and installed again.
It is also difficult to find nails long enough to go through a baseboard's thickness.
What is the best pin nailer
Bostitch HP118K 23-Gauge 1/2-Inch to 1-3/16-Inch Headless Pin Nailer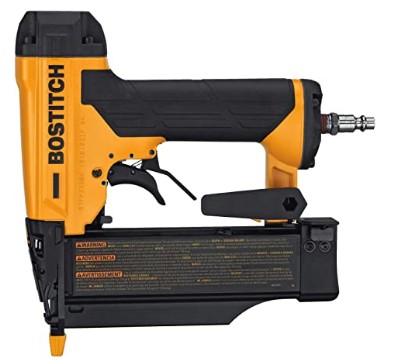 Bostitch boasts of a long history of producing fasteners that are reliable in on-the-job performance. This HP118K pin nailer provides the accuracy needed for detailed trim, finish, and other woodwork projects.
Features and benefits
It shoots 23 gauge nails ranging from ½ -1-3/16 inches, enabling you to use a huge range of fasteners for specific jobs.
Adjustable power control- it makes it easy to set the depth of the pins without changing the settings of the compressor.
Low profile nosepiece- it gives a clear line of sight by tapering down to the contact point.
It has a durable and lightweight housing made of aluminium.
Overmolded grip- this ensures it does not slip as you work and provides comfort for your hand during long periods of use.
It has an adjustable fastening through a wide range of fasteners that will save you money and time by preventing damages to your wood pieces.
Its 200 pins capacity ensures you work without stopping to reload.
It has a 7-year warranty.
Metabo HPT NP35A 23-Gauge Pin Nailer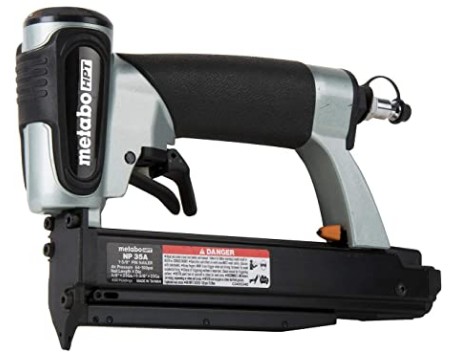 Features and benefits
This Metabo HPT NP35A pin nailer automatically adjusts to different fastener lengths, making it easy to use on a wide variety of projects.
Dual trigger- to ensure accuracy and safety when firing pins.
Depth adjustment feature- it ensures nails are fired into different surface sizes.
Micro pin nailer that shoots 23-gauge headless nails and leaves unnoticeable holes.
It can be used in projects like craftwork, cabinets, picture frame assembly, glazed bead panelling, small molding and trim.
Conclusion
If you desire a clean finish on your wood projects, it is advisable to invest in a pin nailer that is the best fit for you.