What Does Garage Ready Mean for a Freezer?
A freezer that is garage ready is a freezer that is designed to operate regardless of temperature changes.
The freezer has a small heater that triggers the thermostat in your fridge to run the compressor to keep your freezer functioning.
Garage ready freezers are freezers you can easily install without making any changes to accommodate them in your garage.
A garage ready freezer is a fridge with a wide range of operating temperatures and multiple temperature sensors.
Who are they for
Garage freezers are for any person in either a hot climate or a cold one with snowstorms.
They are for anyone with a garage who feels the need to have one.
Is it any better than the regular freezer
A garage ready freezer continues cooling even when the temperature in your garage drops.
They are designed to operate in a broader range of temperatures between 0-100°F to accommodate the fluctuating temperature in your garage.
Regular freezers are designed to operate in a house with reasonably stable temperatures.
Garage freezers also provide extra storage for your food without crowding your home.
How do I know if my freezer is garage ready
It is important to check the Owner's Manual on the manufacturer's website before purchasing a freezer for your garage.
Review the section on installation for instructions on the range of the freezer's operating temperature in your desired installation location.
Are all chest freezers garage ready?
Chest freezers come in different models. Not all are garage ready. Mainstream chest freezers aren't as well insulated and tuned like garage ready ones. They will consume more electricity to maintain the same internal temperature in a very hot garage without air conditioning.
Are they cheap
Garage ready freezers are affordable. The cost is almost similar to what you will pay for a mainstream chest freezer of the same size and with the same tech. They can, however, be slightly more expensive.
Garage ready freezers highlights
The newer models are more efficient than the older ones. Efficiency makes them use less power and saves you money.
Garage ready freezers produce minimal sounds and are therefore not noisy.
They have a garage kit which is a heating element placed around the temperature sensor in your freezer that makes the freezer feel like the air is warmer than it actually is.
Is a garage freezer necessary
Since the beginning of the pandemic, garage ready freezers have become a necessity.
With lockdowns and curfews, people prefer to stock up their homes with supplies that can last up to a month.
It is, therefore, necessary to have a garage ready freezer for the extra storage for your food items.
Best garage ready freezers
Koolatron KTCF195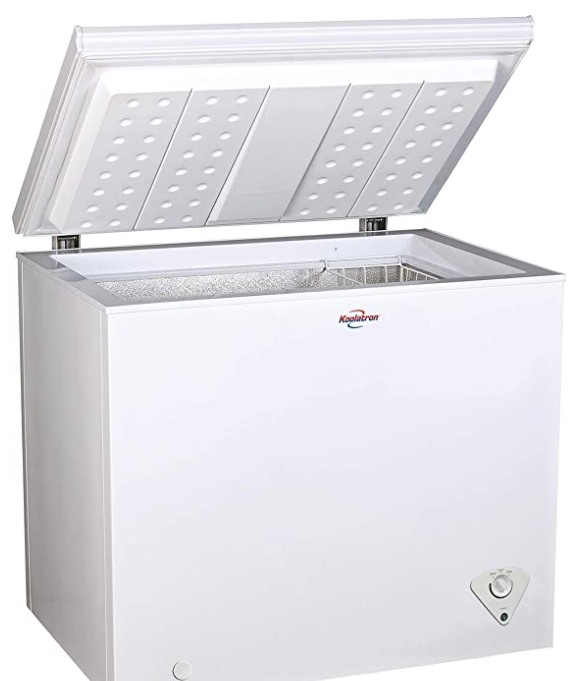 Features and benefits
The Koolatron freezer is a convenient, affordable and spacious chest freezer.
Huge capacity-It can easily accommodate all your food, thus reducing food wastage and also save you money.
Easy organization-The freezer has a wire basket that you can remove to easily organise your food items as well as access items that you commonly use.
Its smooth back enables the freezer to fit into your home quickly.
Energy efficient-It has a magnetic door seal that keeps the inside cold as it should be.
It also uses compressor technology that is reliable and efficient.
Easy to maintain -Its external defrost drain makes it easy to drain water when cleaning your freezer or defrosting.
Adjustable temperature-it has an external thermostat that makes it easy to adjust the temperature inside the freezer without opening its door
Arctic King 5 Cu ft. Chest Freezer
Features and benefits
Spacious- it provides extra storage for your food items.
It does not occupy a large space in your home.
Easy organisation -it has a removable wire basket and allows easy access to the commonly used items.
Easy maintenance -it has a defrost drain that's easy to access and an easy to clean interior.
Energy-efficient -it uses approximately 218kilowatts of power yearly.
Double layer packaging ensures the freezer gets to you safely.
One-year warranty cover that makes it convenient to buy.
Can I keep a garage ready freezer in the house
If you have enough space in your house, you can keep your garage-ready freezer there.
It will still operate properly even in the house because it functions in a broad range of temperatures and running a heater or a ventilation fan won't harm its performance drastically..
Conclusion
To save money and reduce food wastage, it is a good idea to invest in a garage ready freezer.
If your garage has extremely high temperatures, your fridge will consume more power as it tries to keep your food items cold. This often results in wear and tear on your freezer components and compressor, resulting in a shorter lifespan.
On the other hand, extremely cold temperatures will make the freezer stay inactive, resulting in thawing out in the freezer section.
It is important to insulate your garage to minimize extreme temperatures, or if the process is too expensive, you can insulate the freezer area only.
It is also advisable to have separate thermostats for the freezer and refrigerator sections. This will ensure the cold air in the freezer is used to maintain cool temperatures in the fridge.
However, a high temperature in the freezer will cause the compressor to turn on.