Do Garage Exhaust Fans Work?
If you work on projects or park your car in the garage, it will be prone to accumulating carbon monoxide fumes from the car exhaust and other chemicals and gases from power tools. And when you open the interior garage door, you will be exposing the rest of your home to toxic fumes and gases. Unfortunately, garages with no windows are pretty standard, which means less ventilation.
The solution for ventilating a garage with no windows is installing an exhaust fan to circulate the air, draw in cooler, cleaner air, get rid of the fumes, and maintain your garage's air quality and ideal temperature in conjunction with the insulation. There are several ways to ventilate a hot garage. However, installing a garage exhaust heat fan is the most effective way to ventilate your garage. Below are some basics to understanding the benefits of exhaust fans and how they work to cool your garage and home.
Will an exhaust fan adequately cool a garage?
Yes, an exhaust fan, on its own, will only cool a garage if the air outside is cooler than that in the garage. A garage exhaust fan works by drawing cleaner and cooler air from outside the garage and circulating it around it. The cooler air moves throughout the garage then it is dispelled through the garage fan. So during hot seasons, other supplementary measures will be needed for effective cooling in the garage.
Do I need an exhaust fan in my garage?
Residential garages are not legally required to have ventilation. However, the Environmental Protection Agency (EPA) suggests that proper ventilation in a garage is essential to eliminate toxic fumes, carbon monoxide, and excessive heat. Below are a number of reasons you should consider installing an exhaust fan in your garage.
Improves airflow
Garages can be very stuffy due to accumulated gases and fumes, making breathing difficult or uncomfortable. Inhaling this contaminated air over time can also affect your respiratory system or trigger health issues for people with allergies. An exhaust fan will increase air circulation by pulling in fresher air and dispelling the contaminated air.
Cools hot garages
Non-insulated garages tend to be most vulnerable to heat build-up, especially during summer months or hot climate areas such as Arizona, Florida, and California. An exhaust fan will increase airflow and invite cooler air into the garage to reduce heat.
Improves energy efficiency
A hot garage will radiate heat through the walls of an attached garage and into the rest of the home. This will add an extra cooling load on your air conditioner, making it run longer cycles and eventually increase operating costs. On the other hand, installing an exhaust fan to cool the garage will reduce workload for the indoor AC and cut down on energy costs.
Removes condensation
Another common problem with garages without ventilation is moisture build-up. The moist areas create an environment for mildew and mold to grow, which can cause structural damage or destroy the contents in your garage. In addition, metallic tools and surfaces will develop rust from the moisture. Inhaling mold and mildew is also life-threatening, especially for people with allergies or conditions like asthma. The exhaust fan will remove the moisture out of your garage to prevent mold, mildew, and rust.
It makes your home comfortable.
If your garage is too hot or cold, it can affect the adjacent rooms and make them uncomfortable for the residents. The garage exhaust fan will improve air circulation, remove excess moisture and odor, increasing your overall indoor comfort.
The best garage exhaust fans
There are several types of exhaust fans in the market, and we have helped narrow down some of the best-selling hot garage exhaust fans you can consider buying.
iLiving 16″ Wall Mounted Exhaust Fan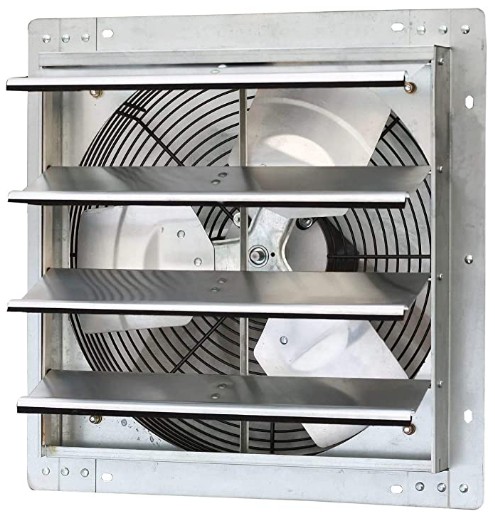 iLiving is a popular brand when it comes to making quality ventilation fans. Their 16-inch ventilation fan is a thermostat-controlled exhaust fan with control panels with adjustable speed and temperature settings. It conveniently plugs into a power outlet, making it easy to install and use. The motor has a powerful 1/20 horsepower that can ventilate a room of up to 1200 cubic feet in a minute. Its best feature is the automatic shutters that automatically remove heat and moisture from the room. It has a 120-volt engine that rotates at a top speed of 1580-RPM, making it suitable for residential and large commercial spaces.
Features
Recommended Coverage Area: 320 sq. ft.
Maximum Cubic Feet per Minute (CFM): 1280 CFM
Rotations per minute: 1580
Fan Diameter: 16 inches
Horsepower: 0.05 hp
Mounting type: Wall
Voltage: 110-120 V
Thermal Cutoff Protection: Yes
Pros
User-friendly
Durable galvanized frame
Weather-resistant aluminum shutter
Permanently lubricated motor
Cons
It is noisier than other options.
It requires electrical-hardwire installation.
iPower 12 Inch Shutter Exhaust Fan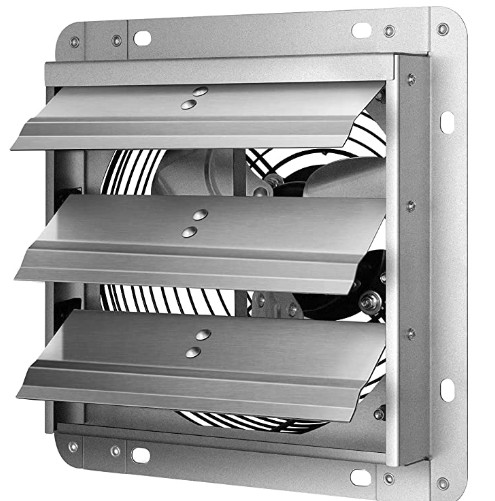 The iPower 12-inch ventilation fan comes fully assembled out of the box. It fits easily into a window or existing wall cutout for effective performance and requires an electrical hardwire for installation. In addition, this exhaust fan features aluminum blades and automatic shutters that open and close automatically with the operation of the fan. It also has automatic shutters making it an excellent garage roof vent fan that can replace your AC unit.
Features
Recommended Coverage Area: 2000 sq. ft.
Maximum Cubic Feet per Minute: 940 CFM
Rotations per minute: 1620
Fan Diameter: 12 inches
Horsepower: 0.05 hp
Mounting type: Window
Voltage: 115-120 V
Thermal Cutoff Protection: Yes
Pros
It is lightweight.
Budget-friendly
It is thermally protected and permanently lubricated.
Cons
It makes a buzzing sound.
The unit has to be hardwired.
AC Infinity AIRLIFT T10, Shutter Exhaust Fan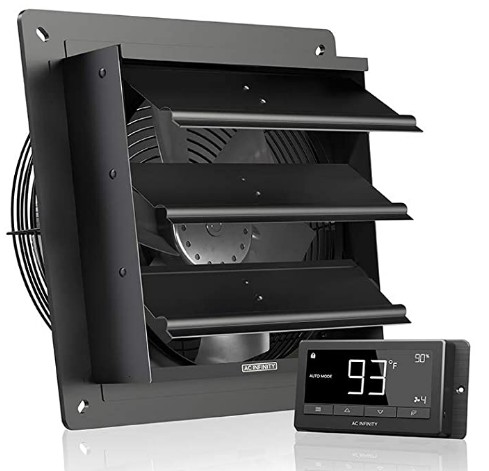 The 10-inch exhaust fan from AC Infinity's Airlift series allows maximum airflow to remove dust, fumes, moisture, and odor from various spaces. It features an LCD screen with remote smart temperature and humidity sensors and customizable fan speeds. It has a heavy-duty build of steel shutters and aluminum blades. It also has an IP-44 rating to indicate high resistance to water and dust damage.
Check this too: How to Hide Water Heater in the Garage
Features
Recommended Coverage Area: 150 sq. ft.
Maximum Cubic Feet per Minute: 631 CFM
Fan Diameter: 10 inches
Watts: 50 W
Mounting type: Wall
Voltage: 110-120 V
Humidity sensor: Yes
Pros
Easy to install.
It is efficient for smaller spaces.
Quality construction.
It operates more quietly compared to most exhaust fans.
Waterproof
Cons
It has a noisy vibration at high-speed
Conclusion
Installing an exhaust fan for cooling a garage without AC is a wise investment. Its job is to remove heat, contaminated air, toxic fumes, and odor and replaces it with cleaner, cooler air. To ensure your exhaust fan performs efficiently, getting the most appropriate size for your garage is essential. This means the bigger the garage, the bigger the exhaust fan you will need to circulate air sufficiently in the space.