Best 2×72 Belt Grinder
A belt grinder is to a metal worker what a sander is to a carpenter. Without it, all your tools will be rendered worthless once they become blunt. However, the grinder is also essential for anyone who works with metal tools. It goes a long way in ensuring your tools are always sharpened, which helps them work efficiently.
However, just like shopping for other electric gadgets, you may become overwhelmed by all the grinder options in the market and buy a subpar belt grinder, which could be a waste of money if the grinder does not work as it should. Here are the best 2×72 belt grinders in the market currently.
Top 3 Best 2×72 belt grinders
Grizzly G1015 Knife Belt Sander/Buffer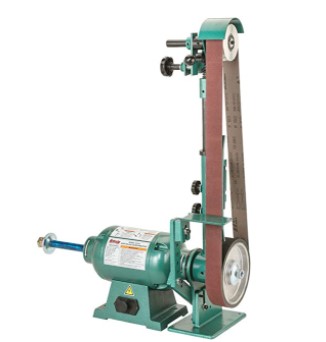 This budget 2×72 belt grinder features an auxiliary arbor that accepts buffing wheels, sanding drums, or flap wheels. The belt can also be changed in seconds using the quick-release mechanism. A 1 horsepower engine houses to power the buffer in a cast-iron body. It also features aluminum rubber rollers and a belt arm that can be fully tilted. Its ball-bearing construction makes it easy to use and jam-free. The buffer uses 2″ x 72″ sanding belts.
The sanding wheel measures 8-inches in diameter, enabling it to be able to buff larger tools. Additionally, the width of the sander (29-1/2″) makes it less space-consuming making it fit well in a compact heated garage.
Features
Auxiliary Arbor
Aluminum Rubber Roller
Ball Bearing Construction
5/8″ Arbor
Cast-Iron Body
Pros
Quick-release mechanism
Belt arm can be Fully Tilted
Accepts Buffing Wheels, Sanding Drums, or Flap Wheels
Cons
The tool rest is not sturdy and moves around when in use.
JET J-4103 2 x 72 Square Wheel Belt Grinder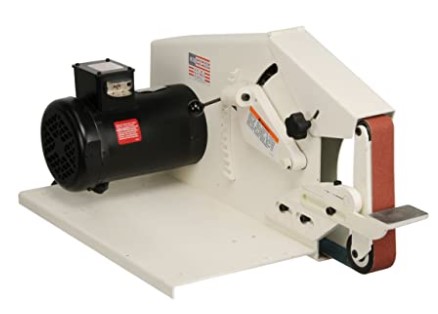 The JET 2×72 belt grinder kit features the Platen setting that is the perfect angle for high speed, precision flat, and level grinding. It can be used for grinding and refinishing cylindrical shapes. Its Yoke surface conforms to the shape of the tool body to produce a smooth finish.
It also features a serrated contact wheel that is perfect for removing heavy stock, cleaning up a weld, or snagging a casting. The grinder can be used to grind difficult to reach areas with the 3″ X 2″ or 1-1/2″ X 2″ diameter contact wheels. It is easy to operate and can be used for multiple uses, including heavy stock removal, the cleaning of welds, or grinding tools, knives, and plastics.
Features
Platen setting
Yoke surface
Serrated contact wheel
Pros
Produces an even and smooth finish
Easy to operate
Efficient grinding and finishing
Cons
Shop Fox W1843 Knife Belt Sander/Buffer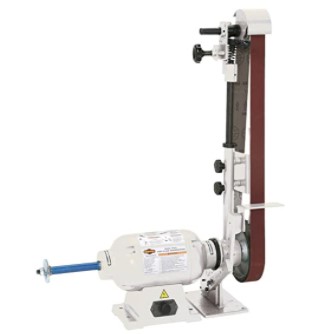 Shop Fox 2×72 belt grinder is very popular with knife makers. It features a cool-running 2″ x 72″ abrasive belt and an extended buffing wheel shaft for full-access buffing or stropping. The sanding belt can be utilized along the Platen, above the Platen for free forming, or against the 10″ rubber-faced drive wheel. It is ideal for sharpening extra-long lathe turning gouges and chisels without gumming up.
It also features an adjustable tool holder that provides a stable platform for consistent results. And the sanding arm adjustment can tilt to a horizontal position, which is more convenient for certain types of sanding operations. The auxiliary Arbor accepts buffing wheels, sanding drums, or flap wheels for use in woodworking applications. Making it ideal for metal and wood buffing.
Features
Motor: 1 HP
Belt size: 2″ x 72″-76″ range
Belt speed: 4500 FPM.
Power Cord Gauge:16 AWG
Overall width: 29-1/2″
All ball-bearing construction
10″ rubber-faced drive wheel
Pros
Sanding Arm Adjustment
Adjustable Tool Rest
Sturdy cast-iron body
Cons
The plastic power button is fragile
Why are belt grinders so expensive?
This heavy-duty tool comprises f several expensive parts need for it to be able to grind, buff, and smooth metal efficiently. It also requires a heavy-duty shell to house all the parts. Additionally, most grinders are made from heavy-duty metal that can form a sturdy base for operation ease. All these factors lead to a higher unit cost overall. Brand recognition also leads to a higher price.
What is the difference between a belt sander and a belt grinder?
A belt sander is only used for sanding wood, while a belt grinder is designed to be used on metal. A grinder is also faster than a sander; sanders are slower to ensure the wood does not catch fire. Some manufacturers use the two terms interchangeably. Be sure to confirm if the product features are right for the intended purpose.
How do you make a 2×72 belt grinder?
If most commercially sold grinders are too expensive for your wallet, you can also make your DIY belt grinder.
Items needed
Metal plate – 3*2."
Three wheels
Square metal tube; – (4 mm thick) 3 pcs 13 inches long, one 5 inches long, and one 4 inches long.
8-inch wheel
One horsepower motor
Paint
2X72 Inches belt
3 Pcs 1.5 inches square tubing and 2m thick
Create a base
Start by creating a sturdy base that can support the grinder's weight and keep it steady as you work on it. The ideal size for the base is 17 inches by 15 inches. You can use hollow metal tubing to create a base frame then weld a piece of metal sheet on top of it.
Then anchor the base onto your workbench to make it sturdier. You will also need to attach handles to the base so that you can hold it steady as you work. You can use recycled or new metal handles and weld them onto the grinder base.
Tracking Wheel
Then proceed to attach the tracking wheel onto the grinder base. This is essential for moving the grinder belt as you use the grinder. Test the wheel to ensure it moves up and down before you proceed to the next step.
Assemble the grinder
Then attach the rest of the parts to the tracking wheel, and you are good to go. You may need to watch video tutorials for more advanced guidance.
Conclusion:
The best 2×72 belt grinder should be easy to use, durable, sturdy, and multi-purpose. It should also be adjustable to use to sand different types of tools and metals. Lastly, the grinder should be able to work with varying types of wheel.