What Is the Difference Between a Single Bevel and a Dual Bevel Miter Saw?
Every woodworker should own a miter saw for its versatility, but the decision-making process can sometimes be a daunting task. You have to do your research based on the qualities of the tool you desire. The power tool has to be efficient and also affordable. There are a lot of things to consider when buying a miter saw. We base some of the decisions on a single or double bevel.
The main difference between a single and dual bevel miter saw is the single bevel miter saw makes cuts at an angle while the latter cuts both sides of the board without moving the board around.
Keep reading to learn more tips that will help you decide on miter saws.
What is a bevel cut?
A bevel cut is where you cut at any angle that is not 90 degrees by adjusting the blade to your desired angle, which then goes through the material's thickness. A bevel cut is angled horizontally on the material's plane, which changes the tip or rise of the working material's edge.
When to Use a Single Bevel Miter Saw
A single bevel miter saw can only bevel in one direction, most bevel to the left. You have to physically move the board to cut it in the opposite direction. It also does not tilt beyond the 90 degrees vertical. We use a single bevel miter saw to cut various angular cuts like trims, frames, or molding.
What is the best single bevel miter saw?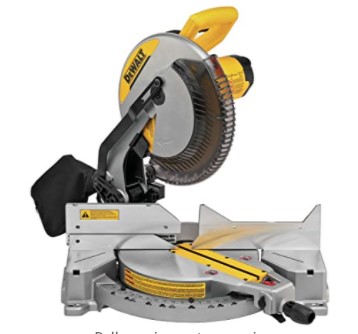 The DEWALT 12-Inch Miter Saw, 15-Amp, Single Bevel, Compound (DWS715) is a budget-friendly choice that is also versatile and sturdy. This saw features a powerful motor and other features suitable for various crosscuts and miter cuts. Below are a few other features that stood out for me:
Blade size
The uniquely sharp blade comes in a 12-inch size that offers 14 positive stops that ensure accuracy. The miter saw blade is an adjustable stainless steel detent plate resistant to chipping, bending, or breaking when cutting wood and other materials.
Maximum speed
Speed is essential when it comes to miter saws. It is what determines accurate and precise cuts. The motor offers 4000 Rpm at 15 amp giving it extended power and durability.
Mitering & Beveling Capacities
Mitering is the saw's ability to move in both directions, while beveling refers to the tilting of the saw head. These determine what angles the saw is capable of cutting. The DEWALT 12-Inch Miter Saw (DWS715) can accommodate bigger jobs by beveling up to 48° to the left and 3° to the right. It also has positive stops at 0°, 33.9°, 45°, and 48° that delivers versatility.
It has a 45-degree crosscut through wood measuring 2×6 inches and a 2×8 inch at a 90-degree angle.
This miter saw also highlights a miter detent override switch that allows you to adjust to your desired setting without the saw slipping into the miter detents by overriding the miter stops. It has tall sliding fences of up to 5 1/4 for the crown molding and 6 1/2 for the base molding, ensuring the material's stability for bevel cuts.
Portability and strong construction
The DEWALT (DWS715) (Buy on Amazon) is very lightweight with sturdy construction. It weighs about 42.8 pounds making it easy to carry and move around projects without much hassle. It also measures 26.77 inches in width, 21.85 inches long, and 18.9 inches in depth, giving it a compact and portable size.
What we like
The saw is lightweight and portable at only 42.8 pounds.
Lacks cut vibration, making it quiet and precise.
Budget-friendly.
It is simple and easy to operate.
It has a strong and powerful motor.
Adjustable bevel offers versatility to make perfect crosscuts on thick material.
What we don't like
It doesn't come with a laser marker guide.
The dust bag has a low holding capacity, and some of the dust doesn't collect in the dust bag.
Why it's worth your money
The DEWALT (DWS715) (Get it on Amazon) is more modestly-priced compared to other models with similar features. It receives good reviews for its smooth performance and outstanding accuracy. Yes, it is worth the investment for any woodworker looking for an affordable yet easy-to-use and precise single bevel miter saw.
Summary
The DEWALT 12-Inch Miter Saw (DWS715) is excellent for woodwork that demands a powerful motor, precision, portability, and versatility. The 15 amp motor with a 12-inch blade makes it fast for precise cuts. It makes up for its lack of a laser with its bevel range of 0-45 degrees to the left ensure accurate cuts. You can fix its inefficient dust collection system by connecting a basic shop vac to the saw. The price is also right for what it offers as a reliable single bevel, compound miter saw.
How to Use a Double Bevel Miter Saw
A double bevel miter saw bevels in both directions, right and left, without moving the workpiece. This feature allows you to bevel opposing cuts on the same piece of material by merely moving the blade in the other direction. A double bevel miter saw capable of performing more jobs than the single bevel miter saw. They include trims, crown molding, custom, and handmade crafts. A double bevel miter saw is the only miter saw that can produce fancy crown moldings if you use it right.
What is the best double bevel miter saw?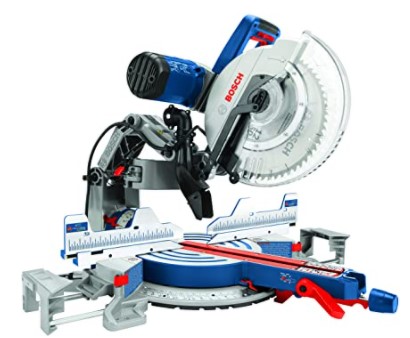 The Bosch Power Tools GCM12SD – 15 Amp 12 Inch Corded Dual-Bevel Sliding Glide Miter Saw is hands-down one of the best double bevel miter saw in the market. For its price, it is worth the power, precision, and durability. The Bosch Power Tools GCM12SD (Amazon Link) features a large blade diameter, which helps with larger projects. Here are some other features that make this saw the best for angled cuts:
Cutting capacity and accuracy
The cutting capacity and accuracy are both this saw's strong suits, thanks to the 12-inch blade length. This saw owns an axial-glide system that gives perfect alignment, complete control, and unmatched smooth cutting action. It also has a cutting capacity of 14-inch horizontal capacity and 6 1/2 inch vertical capacity, making it versatile for various cuts.
The axial-glide system will also help save on space as it doesn't have the traditional rail setup. The table's length can also be extended up to 40 inches, allowing you to work on more extended materials.
Maximum speed
This saw's motor of 15 amp delivers the speed of 3,800 rpm, which gives fast and accurate cuts. It is also powerful enough to handle routine work, and it doesn't overheat with extended use.
Mitering & Beveling Capacities
The bevel range goes up to 48° to the left and right. It also has automatic detents at 0°, 33.9°, and 45° for both left and right sides. It also has a miter capacity of up to 60 degrees right and 52 degrees left with adjustable miter detents at 0°, 15°, 22.5°,31.6°, 45°, and 60°, providing adjustability for a wide variety of cuts.
It has an all-metallic bevel lock lever and ranger selector located at the front, making it easy to adjust bevel settings without reaching to the back of the saw.
This miter saw features a square lock quick-release fence with a one-lock/unlock action for precision, more support, and better alignment. The saw also has a tension adjustment arm if the glide action feels too loose or smooth for you. This versatility allows for more adjustments for custom crafts.
The Dust Collection System
The built-in dust collection port for the Bosch Power Tools GCM12SD is reputable for being one of the most efficient dust collection systems for miter saws. It keeps the workspace clean and improves user visibility, ensuring more accurate cuts. It also enables the gliding system to last longer as it prevents dust from accumulating in the bearings.
What we like
It is efficient for both left-hand and right-hand users.
Excellent dust collection system.
The saw has a highly customizable cutting action.
The axial glide features make it compact and save on space.
What we don't like
It weighs 65 pounds, making it challenging to move around.
With its considerable weight, it does not come with a saw stand.
Making straight cuts may be a bit difficult.
It is considered pricier than other saws.
Why it's worth your money
With the Bosch Power Tools GCM12SD, you get what you pay. Despite its higher-end price bracket, this miter saw offers a powerful motor, excellent cut quality, durability yet still easy to operate by hobbyists. An expert woodworker with serious cutting needs will appreciate the investment in this miter saw.
Summary
The Bosch Power Tools GCM12SD (Click to Buy) sliding glide miter saw is a powerful tool designed for woodwork that requires precise and intricate designs. Much of that is attributable to its axial gliding system that allows for easy use and saves space, meaning the saw can fit in much smaller workspaces.
Conclusion
Whether you choose a single bevel or double bevel miter saw largely depends on the type of work you will be doing. A hobbyist buying a budget miter saw will be satisfied with the single bevel saw meant for smaller jobs, while the dual bevel is best for more custom pieces. Regardless of your choice, make sure it suits your individual needs.