Best Miter Saw Blade
When it comes to woodworking or any other building project, a saw can make your life incredibly easy or incredibly hard. And this is all dependent on the quality of the saw blade. With the right saw blade, you will be able to cut wood or metal like butter.
Unfortunately, this requires experience. And if you are new to DIY projects or are looking to buy a miter saw blade for a specific project, this may seem cumbersome. Fortunately, we have compiled a list of the best miter saw blades for you.
With the right miter saw blade guide, you should pick out the correct type of saw blade for different types of materials. Keep reading to learn which saw blade brand is best for cutting various materials.
Top 5 Best Miter Saw Blades of 2021
DEWALT (DW3106P5) – Best All Purpose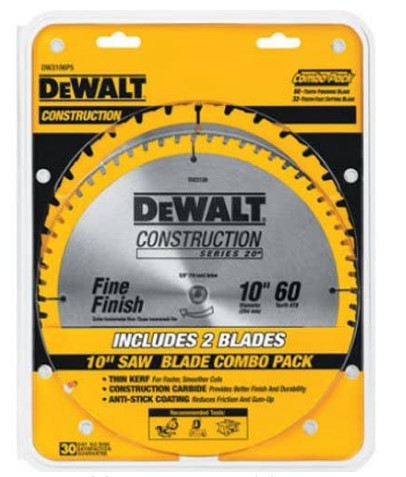 This blade pack comes with a 10-inch DW3106 60-tooth fine-finish blade, and a DW3103 32-tooth general purpose saw blade. The miter saw blades are perfect for cutting trim, softwood, hardwood, chipboard, and plywood.
The blades feature a slim-kerf that offers quick and even incisions with minimum excess debris. Additionally, a patent wedge shoulder places additional steel at the back of every tip, maximizing strength and precision.
The computer balanced plate reduces vibration for improved accuracy and better finish even when cutting bevels. And the durable tungsten carbide maintains a true edge.
Features
Material: tungsten carbide
Item Dimensions LxWxH: 13.75 x 13.75 x 0.19 inches
Number of Teeth: 60 and 32
Item Weight: 1361 Grams
Thin kerf
Arbor size: 5/8"
Computer-balanced plate
Pros
Fast and smooth cutting action
Minimal vibration
Durable
Cons
Freud D12100X 100 Tooth Diablo (Best for Fine Woodworking)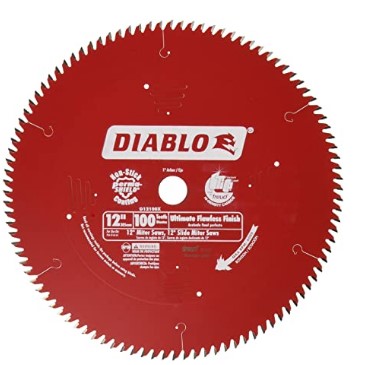 The Diablo 12 inch 100 tooth miter saw blade for fine woodworking is a high-performance blade designed for cutting wood and wood composites. It features a super-thin laser cut kerf, Parma-Shield nonstick coating, laser-cut Stabilizer vents, and tri-metal shock-resistant brazing.
It also features a super-thin laser cut kerf for effortless cutting performance. The blade is made from Tic Hi-Density carbide that increases its durability and reduces blade dulling. Additionally, the Parma-Shield nonstick coating shields the blade against heat, gumming, and corrosion.
While the laser-cut Stabilizer vents trap noise and vibration and stabilize the blade, the tri-metal shock-resistant brazing allows the carbide tips to withstand extreme impact. Lastly, the laser-cut heat expansion slots allow the blade to expand due to heat build-up, keeping the cut clean and straight.
Features
Material: Carbide
Item Dimensions LxWxH: 1 x 14 x 16 inches
Number of Teeth: 100
Item Weight: 3 Pounds
Parma-Shield nonstick coating
Laser-cut Stabilizer vents
Tri-metal shock-resistant brazing
Tooth grind Hi-ATB
Arbor size: 1
Blade speed RPM 6, 000
Pros
Engineered venting
Corrosion-resistant
Super-thin laser cut kerf
Hi-Density carbide
Cons
Splinters wood when used at high speed.
Makita A-93681 Micro Polished Blade (Best for Hardwood)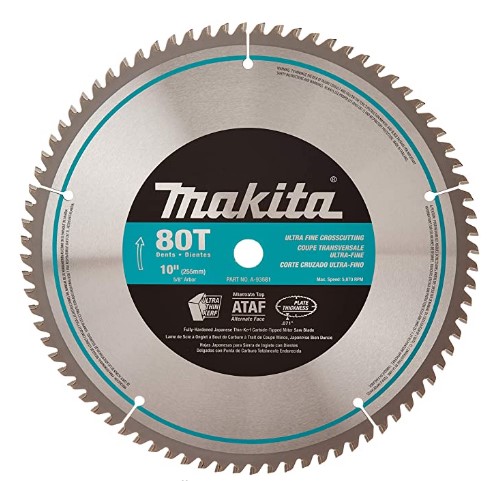 This is the best woodworking miter saw blade for cutting hardwood. It features micro-grain carbide teeth that are honed with up to 600 grit for a mirror finish. The fully hardened and expertly hand tensioned steel saw plate offers accurate cuts without splintering the wood.
The blade also features an ultra-thin kerf that measures 0.091 inches. The blade also has a 5-degree hook angle and a plate thickness of .071. The blade is made using Alternate Top and Alternate Face technique for ultra-precision cutting even on a budget miter saw.
Additionally, the carbide tipped design provides smoother cuts with less drag on the motor, which leads to decreased material loss. The blade is perfect for cutting hardwood, softwood, and plywood.
Features
Material: Carbide
Item Dimensions LxWxH: 12 x 11.8 x 0.2 inches
Number of Teeth: 80
Item Weight: 1.75 Pounds
Micro-Grain Carbide Teeth
Mirror Finish
Ultra-Thin Kerf .091."
5 Degree Hook Angle
Plate Thickness: .071
Pros
Fully Hardened
Expertly Hand Tensioned Steel Plate
True Cuts
Ideal for: Hardwood, Softwood, and Plywood
Cons
Not ideal for angled cuts
Diablo D1080N (Best for PVC & Non-Ferrous Metal)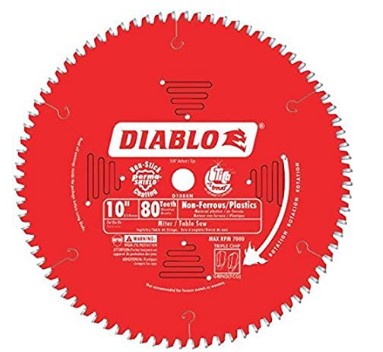 This miter saw blade for cutting metal and PVC is made from TiCo titanium Cobalt high-density carbide, specifically designed to cut nonferrous metals such as copper pipe, aluminum, and brass. It features a thin kerf blade, triple chip grind tooth design for long life, and a clean, burr-free finish.
The blade also has Tri-metal shock-resistant brazing that allows the carbide tips to withstand extreme impact for maximum durability. Its Perm-shield nonstick coating shields the blade against heat, gumming, and corrosion. The reduced friction and warping help to extend the blade's cutting life.
It also comes with Freud's Limited Lifetime Warranty.
Features
Material: Carbide
Item Dimensions LxWxH: 0.2 x 12 x 14 inches
Number of Teeth: 80
Item Weight: 1.45 Pounds
Laser Cut Stabilizer Vents
Laser-cut heat expansion slots
Durable micro-grain titanium carbide for
Thin kerf
Blade diameter in. 10
blade speed RPM 7, 000
Arbor size: 5/8 inch
Tri-metal shock-resistant brazing
Perm-Shield nonstick coating
Pros
Engineered venting
Heat resistant
Gumming resistant
Corrosion-resistant
Cons
Not ideal for cutting thick acrylic
Diablo D1260CF Metal Saw Blade (Best for Ferrous Metal)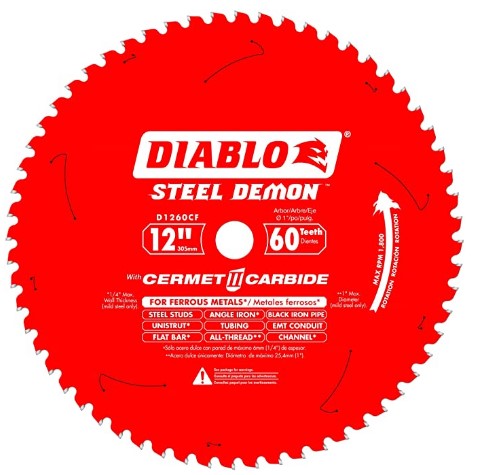 This Ferrous metal saw blade features Cermet Blend Teeth that can withstand impact and wear. The material used lasts up to 3X longer than standard carbide. The blade has improved Laser Cut Stabilizer Vents that trap noise and vibration for maximum stability. This, in turn, helps to keep the blade cool, which is ideal for metal cutting applications.
The blade's Triple Chip Metal Cutting Grind design helps to maximize life, speed, and durability. It also enables the blade to deliver burr-free cuts when cutting metal. The blade is a Spark free Cold Cutting blade, making it "Hot work" compliant—saving you the time and hassle of obtaining a Hot Work permit for job sites.
Features
Material: Carbide
Item Dimensions LxWxH: 12 x 12 x 0.25 inches
Item Weight: 2.55 Pounds
Triple Chip Metal Cutting Grind
Tri-Metal Shock Resistant Brazing
Spark free Cold Cutting
Burr-free edges
Anti-vibration technology
Perma-Shield Non-Stick Coating
Pros
Impact-resistant
Reduced wear
Improved Laser Cut Stabilizer Vents
"Hot work" compliant
Cons
Struggles when cutting thick gauge metal
Top 5 Things to Consider When Choosing a Miter Saw Blade
While the above suggestions are great if you're in a hurry, knowing what we looked for when choosing the best blades will help you understand our decisions or choose the perfect blade for your use case.
Blade tip material
The three main saw blade-tip materials are carbide, steel, and diamond. These materials are best for different applications and have different lifespans. Carbide tip are best for cutting wood and light gauge metals, steel tips are best for wood and metal, while diamond-tipped blades are ideal for cutting concrete, brick, and tile.
Steel tipped blades are the cheapest of the three options, but they also get dull pretty quickly and do not last as long as the other two types. Lastly, Diamond-edges blades do not have teeth and do not last as long as carbide-tipped blades.
Tooth count
This is dependent on how you intend to use the blade. Refer to our section on the impact of teeth on a saw blade to understand more about this.
Blade size
The blade size is determined by the size of your miter saw and the usage. You cannot use a small blade to cut through hardwoods such as oak wood or mahogany, just as it is pointless to use your heavy-duty blade to cut fine wood. You also have to match your blade size to whatever size your miter saw accepts.
Blade design
You can opt for a serrated blade or a smooth blade, depending on what you will do with the blade. Flat blades are used to cut stone, tiles, and other ceramic materials. While serrated blades are best for cutting wood.
Mister Saw compatibility
The last check should be whether the blade will fit into your existing miter saw or not. There is no point in buying something that is too small or too big for your saw. You won't use it anyway.
Are More Teeth on a Saw Blade Better?
The number of teeth on your miter saw blade should be based on the type of application. Blades with more teeth produce smoother cuts, while blades with fewer teeth cut faster but do not produce a more refined finish. The number of teeth also makes the blade good for some materials and bad for cutting other materials.
For instance, densely packed teeth are not ideal for cutting thick hardwoods over 1-inch thick as they rotate much slower, which may end up causing burn marks on the wood. On the other hand, fewer teeth blades are not ideal for fine wood may end up splintering the fine wood (unless you're just chopping it up).
Use the table below as a general guideline for determining which type of blade is best to use for a particular application.
| | |
| --- | --- |
| TEETH DENSITY | EXPECTED OUTCOME |
| Less than two teeth at a time | A rough cut that may rip and tear your material |
| 2 to 4 teeth at a time | A nice smooth cut |
| More than four teeth at a time | A very slow cut that may cause burn marks on the material being cut |
How Long Should a Miter Saw Blade Last?
There is no clear answer when it comes to the lifespan of saw blades. This is because the lifespan is determined by usage, quality, and maintenance. However, cleaning and sharpening your blade after every few uses will undoubtedly help to extend its lifespan.
Also, using the right blade ensures it lasts longer. For instance, if you use a fine wood blade to cut hardwood, chances are it will become dull and last only a few weeks or months, depending on the usage.
It is crucial that you replace your miter saw blade as soon as it stops delivering quality results. A dull blade can lead to more accidents. The dull blade will also create tears or chip your wood. And cause burn marks due to overheating as a result of overworking.
What is the difference between ferrous and non-ferrous metal? (with examples)
Ferrous metals contain iron, and Non-ferrous metals do not. The primary ferrous metals include;
Steel
Carbon steel
Alloy steel
Wrought iron
Cast iron
And the most common non-ferrous metals include:
Aluminum
Copper
Zinc
Lead
Tin
The iron content or lack of determines the metal properties. Which in turn determine how they can be used as iron affect three main metal properties;
Oxidation
Ferrous metals are prone to rust, while non-ferrous metals do not rust. Some ferrous metals may be rustproof if they are mixed with non-ferrous metals. Such as stainless steel.
Magnetism
Ferrous metals are magnetic, while non-ferrous metals are not magnetic unless you run an electric current through the metal, which polarizes the metal, causing it to get attracted to a magnetic field.
Tensile strength
Ferrous metals have a high tensile strength than non-ferrous metals, making them ideal for construction and other heavy duty applications. However, some non-ferrous metals have high tensile strength, such as Titanium.
Conclusion
The best miter saw blade should be able to handle the job at hand. It should also be durable and compatible with your miter saw. It should also be able to cut said material at least two or three times without requiring sharpening. Lastly, it should not burr edges or create chips.